Merchant Services
---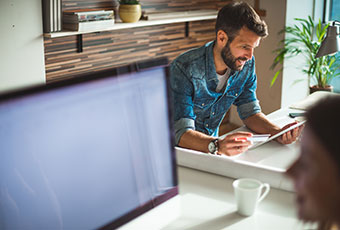 Convenience is crucial, and it's likely your customers expect options when it comes to making payments. Constant C offers two methods of accepting payments from customers: our Handheld Terminal or our Virtual Terminal.
The Handheld Terminal is best when accepting offline, one-time payments. The Virtual Terminal is a web-based application, so no additional hardware or software investments are necessary. What's more, Virtual Terminals accept mobile payments, give you real-time sales data, and accommodate recurring billing for clients you work with on a regular basis.
Do you accept credit cards?
Today, a majority of transactions are done electronically, so if you are a business owner, accepting credit cards is absolutely essential.
Don't accept credit cards? Here's why you should
Boost sales – Since less people want to pay with cash nowadays, accepting credit and debit cards expands your customer base and leads to more revenues.
Improve cash flow – Unlike cash or check payments which are difficult to manage, credit card transactions are processed in real time and can be deposited into your bank account quickly and efficiently.
Keep customers coming back – Constant C Technology Group's Merchant Services make it easy for customers to pay for their purchases, and to retrieve points, mileage, and rewards, and everyone loves that!
Already accepting credit cards? Here's why you should switch to us.
Significant savings – We've saved companies over $30,000 a year with our merchant services.
Eliminate risks – Our systems screen transactions to reduce credit card fraud. We also provide comprehensive cybersecurity and data encryption solutions to prevent data breaches, identity theft, and noncompliance.
PCI Compliance – We will ensure you are compliant with the Payment Card Industry Security Standards (PCI DSS).
Call us for a FREE audit of your Merchant Services Account to find out how much we can save you every year.
Request A Free Quote
It's time to trust your business IT support with a company you rely on.