OUR SERVICES
Co-Managed IT Services
---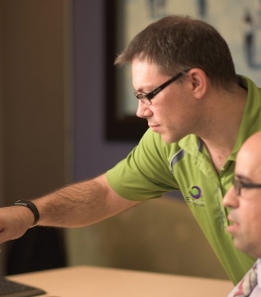 With our co managed IT services in Winnipeg, your company sustains an in-house IT staff, with a team of our technicians at the ready to help. Our team can assist your staff with troubleshooting, network security, server and infrastructure support, network monitoring, backup and disaster recovery, projects, or vacation support. We create a personalized solution to best support your business needs and maximize your resources.
No matter your exact needs, the goal with Constant C's co-managed IT services is to work seamlessly with your CEO, CIO, Director of IT or IT Manager to bring you the most efficient and most reliable service possible. We will establish a clear ticketing and escalation process and hold regular Business Technology Strategy meetings to review reports, accomplishments, provide relevant advice, and establish short and long-term budgetary objectives.
Benefits:
1. Increase productivity: Co-managed IT services maximize the productivity of your IT staff by giving you the flexibility to outsource tasks, and free time and resources up for focusing on strategic goals or other pressing issues.
2. Local knowledge: We have the widest criteria of network and security monitoring available, and our technicians are local and understand the unique business landscape of Winnipeg.
3. Best-in-class solutions: Our network monitoring and cyber security solutions are always up-to-date with the latest technology available to ensure each of our customers is protected from the newest threats, and can benefit from new performance features.
4. Sharing knowledge: The Constant C technical team shares their experiences among their colleagues to improve response times and deepen their breadth of expertise.
Ready to team up? We'd love to talk.
Request A Free Quote
It's time to trust your business IT support with a company you rely on.